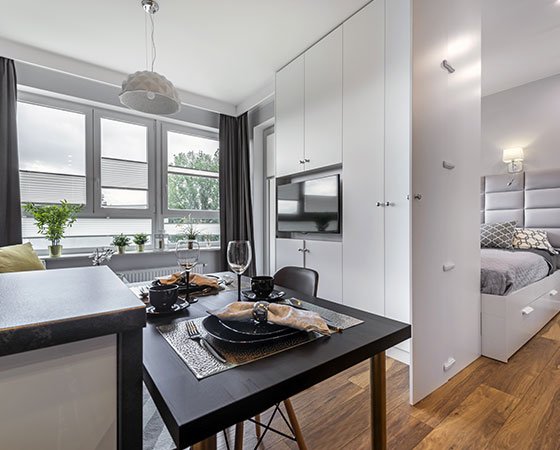 A Home That Matches Your Needs
Being a homeowner has incredible benefits, with extra space, privacy, and being closer to nature in your own backyard being just a few. But not all homes are created equal, and over time, you and your family's need can change. You may need extra room for your kids, visiting friends and family members, or a home office where you can work undisturbed.
The easiest, fastest solution on the market is building an accessory dwelling unit, or ADU. An ADU is a secondary housing unit built on a single-family residential lot. Whether it's completely detached from the existing house, converted from a garage or a basement, or bumped-out, it's an adaptive space you can use in many ways.
Having enough space often means an improved quality of life for you and your family. We're here to help you upgrade your home and property to match your needs and make the most of the space you've got.
Earn Passive Income Each Month
If you have extra space on your property, one of the fastest ways to bring in extra cash is by making use of that space. How? By building a fully-equipped ADU and renting it out.
As a homeowner in California, you're legally allowed to have one ADU per home, so why not take advantage of all the benefits this brings? With all of the housing difficulties in California, renting out an ADU can bring you thousands of dollars in additional income each month, depending on the size of the dwelling.
You can use that passive income to help pay your mortgage or activities for your kids, or just enjoy vacations more often. Building an ADU is a smart long-term investment that makes sense, and we're here to help.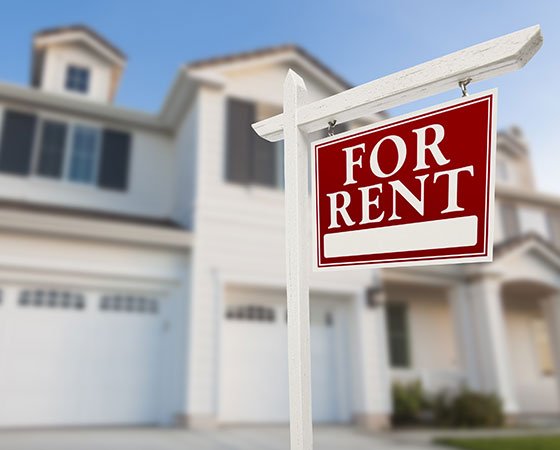 Top benefits of building an ADU:
With local, affordable housing becoming more problematic each year, taking advantage of all the space you already have is important and should be of focus. Our professional team of architects, engineers, and skillful craftsmen is dedicated to helping you get the space you need without buying a new home. Here's how we do it:
Get in touch with us and tell us your vision for your home. We'll have a detailed conversation about your project and your goals, and we'll give you a rough estimate.
After planning, designing, and choosing the best materials, we get to work. As we work on your ADU, we'll keep you updated with every step, so you're never left in the dark.
Use your new, extra space however you please! Get everyone together and celebrate your new and improved home and all the opportunities that come with it.
Building an ADU is a worthwhile investment whether you do it for more family room or to rent out for extra income. No matter how much space you have available, we're here to help you make the most of it. Here's what you can get: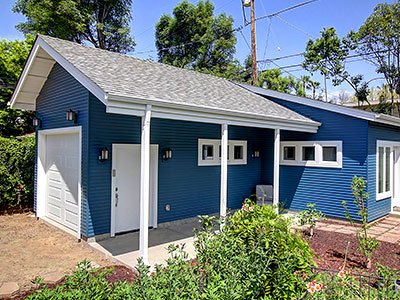 400 sq. ft. studio bedroom addition/conversion with kitchenette, bathroom, windows, doors, painting, minimal furniture. The construction must be attached to the house.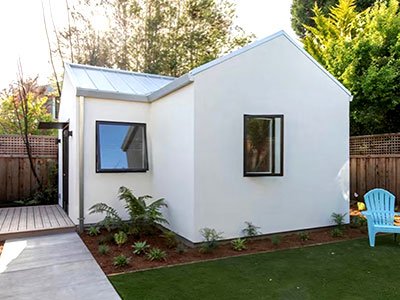 600-800 sq. ft. ADU with 1 bedroom, 1 bathroom, living room, full kitchen, and patio.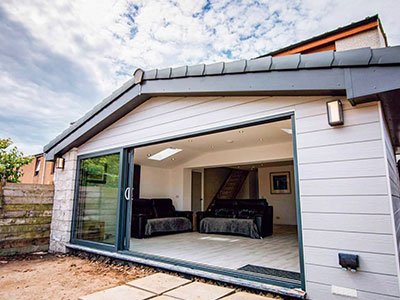 1200 sq. ft. ADU with 2 bedrooms, 2 bathrooms, living room, full kitchen, patio, and more.
*The prices above include all architectural work and plans, permits, exterior, and roofing. The prices are averages and may change depending on the exact size of your ADU, your choice of materials, finishes, appliances, and overall design. You'll receive a quote for your unique ADU construction after the phone consultation.
Here's What Our Customers Say
Every family is unique, every project is special, and every outcome is different. It's our honor and privilege to help so many different homeowners in getting the dream home they want and need. Here's what homeowners like you are saying about our team and our services.
Had a truly great experience with Alex. Cornejos builders just completed converting my crawlspace/basement into an ADU (studio with new bathroom and kitchen).
What made the experience even more valuable was that the owner himself (Alex) came over for a consultation. Other companies just send their sales reps and most of the time they don't even know anything. Feeling important is always a positive I can't wait to work with them again.
I highly recommend them. You can tell Alex is passionate about what he does, his clients, and his company.
It was a pleasure to have this company do my company remodel. From the initial call to the finished product, the company was professional and communication was excellent. They understood the needs of the project and executed it way past my expectations. I would highly recommend them for remodel
Cornejo's Builders did an amazing job remodeling our kitchen. Alexsander made this experience one of a kind, he was accessible and flexible throughout the process.
This guy's knowledge truly guided us to perfect our dream kitchen. He has endless recommendations. The workers were efficient.
We appreciate how he handled minor changes we had with professionalism. After getting work done by different General Contractors, Cornejo's Builders definitely sets the bar for the rest. Thank you, Alexsander.
Make The Most Out Of Your Property With An ADU Designed Just For You