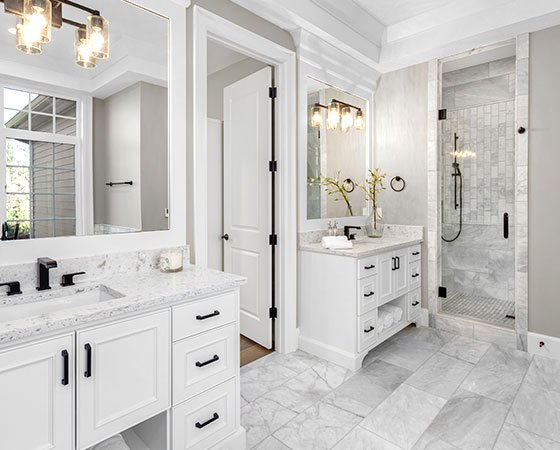 The Fresh, Bright, And Airy Bathroom You Deserve
If the state of your bathroom makes you feel embarrassed, you're not alone. Many homeowners in California would rather not have any guests over in fear they might need to use their outdated, worn-out bathroom.
But it doesn't have to be that way. A bathroom that is not up to trends should not be a reason to put off friends and family, especially when getting a dream-like bathroom is both easy and affordable.
You deserve to have a bathroom that looks just the way you want. Here at Cornejos Builders, we specialize in curbless showers and spacious designs to give your bathroom that seamless, airy look and modern feel you're envisioning.
Out With The Old, In With The New
Many homeowners choose to renovate their kitchen first because it's a central gathering place in the home, then their bathroom. But your bathroom is where you start and end your day, every day, so shouldn't you make sure it leaves you with the best feeling possible?
You may not think it's important, but the way your rooms look influences how you feel. So in order for your bathroom to help you relax, it has to look a certain way. Not to mention that it has to be functional too.
We're here to help you match the looks of your bathroom with the rest of your home, so you can enjoy every inch of it. Get rid of moldy, outdated tiles and rusty vanities and bring in bathroom upgrades worthy of a magazine photoshoot.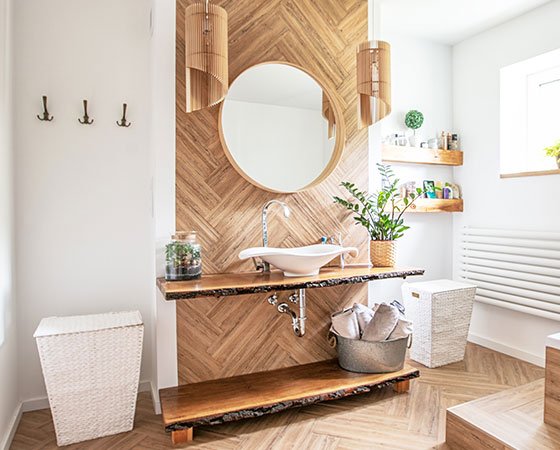 Most popular bathroom upgrades include:
A bathroom that helps you relax the minute you step inside is essential to a home. Our professional team of architects, engineers, and skillful craftsmen is dedicated to bringing the best in the industry to your doorstep. Here's how we do it:
Get in touch with us and tell us your vision for your home. We'll have a detailed conversation about your project and your goals, and we'll give you a rough estimate.
After planning, designing, and choosing the best materials, we get to work. As we work on your new bathroom, we'll keep you updated with every step, so you're never left in the dark.
Enjoy a bathroom that soothes your senses and helps you unwind each day. Light up some candles and feel how stress disappears, leaving you calm and relaxed.
Bathroom Remodeling Prices
However big or small your bathroom project, we're here to help you make the most of the space you've got while staying within your budget.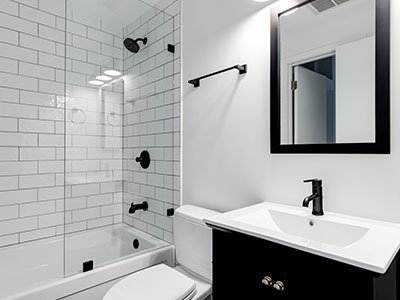 Base Bathroom Remodeling*
Small bathroom remodel with new vanities, new tile, and new fixtures.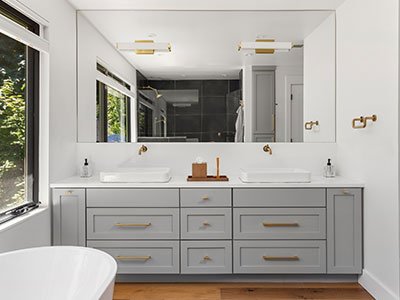 Average Bathroom Remodeling*
Master bathroom remodel with new vanities, new tile, and new fixtures.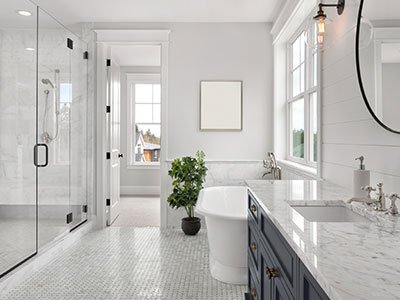 High-End Bathroom Remodeling*
Master bathroom remodel with the latest in vanities and materials: curbless showers, double sinks, heated floors, his and her shower, and more.
*Prices are averages and may change depending on your square footage, choice of materials, appliances, and finishes. The prices include repairing any damage done, and upgrading the plumbing if needed. You'll receive a quote for your unique bathroom after the phone consultation.
Here's What Our Customers Say
Every family is unique, every project is special, and every outcome is different. It's our honor and privilege to help so many different homeowners in getting the dream home they want and need. Here's what homeowners like you are saying about our team and our services.
I had the pleasure of working with Alex and his team for a massive home renovation and remodel. What started out as kitchen renovation, grew into two bath remodels, lighting upgrades, interior/exterior paint, a front courtyard, a tankless water heater installation, garage storage/attic creation, fireplace upgrade, and relocation of washer/dryer.
I grew the scope so large because of trust, communication, and watching Alex & his team work of the course of 2 months.
It was a pleasure to have this company do my company remodel. From the initial call to the finished product, the company was professional and communication was excellent.
They understood the needs of the project and executed it way past my expectations. I would highly recommend them for remodel
Had a truly great experience with Alex. Cornejos builders just completed converting my crawlspace/basement into an ADU (studio with new bathroom and kitchen).
What made the experience even more valuable was that the owner himself (Alex) came over for a consultation. Other companies just send their sales reps and most of the time they don't even know anything. Feeling important is always a positive I can't wait to work with them again.
I highly recommend them. You can tell Alex is passionate about what he does, his clients, and his company.
Enjoy A Bathroom That Brings Out The Best In You Every Day