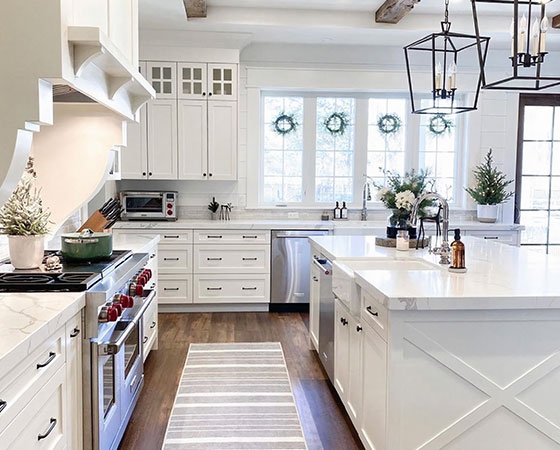 A Room For You, A Room For All
Kitchens as a women-only territory is a long-abandoned stereotype. Nowadays, the kitchen is the hub of the house and a go-to place for all family members. It's where adults have the first coffee of the day while kids get ready for school. In the evenings, it's where you share your day over a nice family dinner and plan for tomorrow.
When friends and family gather at your place, everybody ends up in the kitchen, because that's where the fun happens! Sitting away in the living room waiting to be met feels uncomfortable and restrictive, so guests will often join you in the kitchen. Your guests end up turning the kitchen table into a bar where everybody talks, snacks, and catches up with each other.
A generous kitchen with an open space concept gives you all the space you need so nobody misses the fun and feels left out.
Function, Beauty, And Pleasure Of Cooking
A spacious kitchen is important for a comfy family gathering. After all, you don't want to cram 20 guests into a small kitchen. But besides occasional events like birthdays or holidays, it's important that your kitchen serves you on a daily basis.
Functionality is by far a mandatory aspect of a kitchen. Cooking isn't fun when you don't have your utensils, pots, and pans where you need them, so making your kitchen work for you is essential. And when both husband and wife love to cook, increased kitchen functionality makes everyone's life easier.
Add to that the latest in kitchen trends and you've got yourself a practical and beautiful space you'll love spending time in.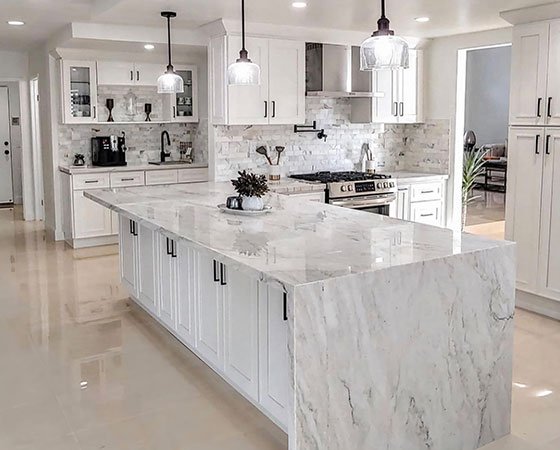 Most popular kitchen upgrades include:
We understand the importance of a kitchen that welcomes you, reflects your personality, and meets your needs. Our professional team of architects, engineers, and skillful craftsmen is dedicated to bringing the best in the industry to your doorstep. Here's how we do it:
Get in touch with us and tell us your vision for your home. We'll have a detailed conversation about your project and your goals, and we'll give you a rough estimate.
After planning, designing, and choosing the best materials, we get to work. As we work on your new kitchen, we'll keep you updated with every step, so you're never left in the dark.
Welcome to a kitchen that finally looks and works just like you've imagined. Time to try out a new recipe and host a fun night with everyone you love.
Kitchen Remodeling Prices
However big or small your kitchen project, we're here to help you make the most of it while staying within your budget.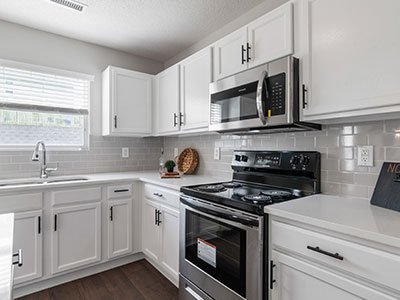 Refresh your existing cabinets with new paint, get new flooring throughout the entire kitchen, and top it all off with new countertops, backsplash, and new crown molding.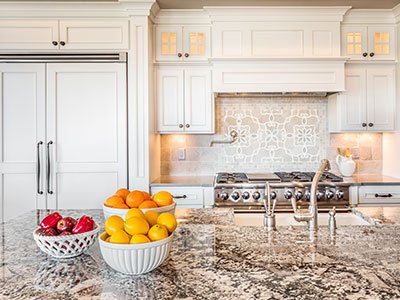 Average Kitchen Remodeling*
Get new custom cabinets with soft-close hinges and drawers, glossy countertops, and backsplash. Can include updating entranceways in non-load-bearing walls. Does not include new appliances.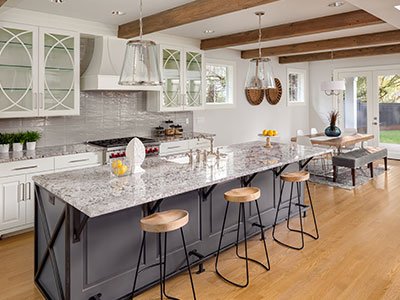 High-End Kitchen Remodeling*
A kitchen reconfiguration with an open-concept layout, custom cabinets, high-end appliances, range hood, recessed lighting, new water and gas line, and more.
*Prices are averages and may change depending on your square footage, choice of materials, appliances, and finishes. You'll receive a quote for your unique kitchen remodel after the phone consultation.
Here's What Our Customers Say
Every family is unique, every project is special, and every outcome is different. It's our honor and privilege to help so many different homeowners in getting the dream home they want and need. Here's what homeowners like you are saying about our team and our services.
Cornejos Builders Inc did excellent work for my kitchen remodel project. I really appreciate Alex efforts in fulfilling my goals, not to mention I had fun working with the team who gave me excellent quality service and ideas for my project.
I am extremely satisfied; not to mention the reasonable timeline to finish the job with no hassles. I wish Cornejos Builders Inc great success!
I highly recommend Cornejos Builders Inc to anyone who is looking to get construction work done.
Cornejo's Builders did an amazing job remodeling our kitchen. Alexsander made this experience one of a kind, he was accessible and flexible throughout the process.
This guy's knowledge truly guided us to perfect our dream kitchen. He has endless recommendations. The workers were efficient.
We appreciate how he handled minor changes we had with professionalism. After getting work done by different General Contractors, Cornejo's Builders definitely sets the bar for the rest. Thank you, Alexsander.
I had the pleasure of working with Alex and his team for a massive home renovation and remodel. What started out as kitchen renovation, grew into two bath remodels, lighting upgrades, interior/exterior paint, a front courtyard, a tankless water heater installation, garage storage/attic creation, fireplace upgrade, and relocation of washer/dryer.
I grew the scope so large because of trust, communication, and watching Alex & his team work of the course of 2 months.
Give Yourself A Delightful Kitchen And Enjoy It With Your Family For Years To Come